February 25, 2017 - Women prisoners released in Africa
In January 2016 when I joined Fr Fidelis O.M.I. for Mass at Langata Women's Prison in Nairobi, Kenya, I met a husbandless mother of four who had served seven months of her six year sentence. In Kenya a fine can replace a prison sentence, but this woman had no family or friends to pay her fine of US$2,000 ....so she was facing six long years in prison...while a relative struggled to care for her four children.

So I emailed Hong Kong, borrowed the money from a kind friend ...money was sent by Western Union...(... later donated by another kind friend). I gave the money to Fr Fidelis and he arranged the woman's release in early March 2016. Woman is the one on left in orange top: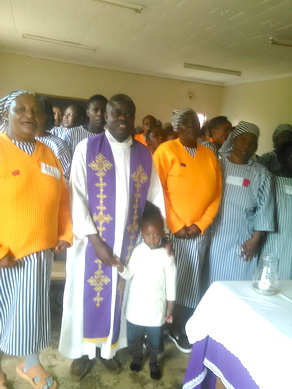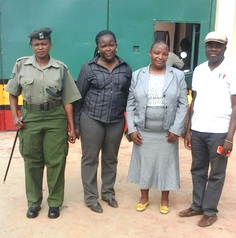 That was 2016.
In January 2017 in Lesotho I joined another Oblate prison chaplain, Fr Tanti O.M.I. for Masses at Maseru Central Correctional Institution - one Mass in the men's section, and one in the women's section. At the end of the women's Mass when Fr Tanti invited me to say a few words, while speaking I suddenly remembered what happened the year before ...and as I thought to myself "oh oh, here we go again" I told the Jan 2016 release story and said I could give Fr Tanti US$2,000 to help secure the release of one or two women....preferably women with health issues (60% of female inmates in Lesotho are HIV positive) and with several children. Thanks to the kindness of kind HK friends, I was in a position to make the donation straight away.

The Good News message below from Fr Tanti tells the rest of the story: SEVEN women released! God is good! And so are the kind people in HK who made this story possible.
----------