V2Catholic.com A voice for the poor Edited by HK prison chaplain
Fr John Wotherspoon O.M.I . 胡頌恆神父 jdwomi@gmail.com
Links, Search & Archives Imitating Pope Francis






This website's anti-drug campaign saves people from going to prison in HK See & share inmates' letters!


HK

Indon

Kenya

Nigeria

Phil
S.A.

S.Amer

Thal

Tanz

Ug

EU
How campaign began HK:how long prison for trafficking? www.AsylumSeekerHK.com

I am now in South America - due back HK Jan 26 Please God. For the time being this website will be in Update Mode: not a daily menu as usual, but updates when I can do them
---------------------
Saturday January 20, 2018 - Sao Paulo, Brazil: It's 7pm here ...haven't had lunch yet...one of those days where many things happen and it's best to keep moving...so...I am now at the Holiday Inn (!) ...on business....and am about to have something to eat....a good place to dine ...although...would you believe it....a mosquito is keeping me company ...in the Holiday Inn coffee lounge! It's not just my humble hotel which has the one thing the Egyptian magicians couldn't copy for Pharaoh/Moses/Aaron: mosquitoes!
My Mass this morning was for the Nigerian Drug Lords in Sao Paolo ...that in this city named after Saint Paul they would have the same sort of experience as St Paul - see here
Thank you for a prayer each of these final days of my South American trip.
God bless everyone who made the trip possible

One good thing about Holiday Inn...the lighting is good. Not easy at night time in my hotel room to see keys of my faithful Toshiba...sometimes I need to use flashlight of my Huawei!
--------------
Friday January 19, 2018 - Sao Paulo, Brazil: Today I spent a lot of time walking to/from and at
several meetings....and during my walking I had the thought: Google Maps is great when the street signs are not missing!
First meeting was at office of a local NGO. I learnt much from the meeting ...e.g. about 22% of men in prison in Brazil are there for drug trafficking; but drug trafficking is the reason for the imprisonment of abut 65% of women in detention in Brazil....and....in Sao Paulo, in recent years, the number of women arrested for drug trafficking has increased almost 5 times!
Other meetings....more info later...
-----------------
Thursday January 18, 2018 - Sao Paulo, Brazil: Has been a long but happy day
From 11am we gathered at my hotel...making friends...the families had never met before
Then we had a buffet lunch in a nearby restaurant. Then I had a final chat with each family separately.
Like the groups I have met in other countries of South America, this group also now has a W/Ap co-ordinator who will help the families support each other
Gathering started at 12 noon ...the last guests left just before 6pm...a long but happy day.
Jesus, please bless today's families... and their relatives in prison in HK
More than important: Eating the Earth (George Monbiot). I know that what I'm about to say is as welcome as a Jehovah's Witness at the door during the World Cup Final.
How does he keep giving such beautiful talks?!:
Pope in Chile: Make sure no one misses out on the joy of the party!"There is no Christian joy when others are made to feel unwanted, when there is no room for them in our midst"
And...

Pope does marriage validation on plane! (not for the pilot!)
------
Wednesday January 17 - Sao Paolo, Brazil: This morning I had a plan for doing a number of jobs, but as usual it was a flexible plan....to let the Good Lord make any changes....which he did...several times...starting when I stopped at my hotel reception desk before going out...where the kind manager kindly insisted on helping me phone the families I'm due to meet tomorrow. Families have already been phoned by No More Mules team in HK, but I usually say hello to confirm the arrangement.
Then when I went out for a bit of "fishing" and to do some shopping I was stunned and horrified to see that virtually every footpath on every block has dozens of homeless people ...women as well as men. It's as if Lazarus from the Gospel story is everywhere you go! And people just walk past them as if they were part of the scenery. What a huge and urgent need there is for the government, churches, NGO's to take effective action. Studies shown that homelessness is very expensive for any place....e.g. it leads to an increase in crime as people steal to survive...and crime means police/judges/lawyers/prisons etc.
I have seen poverty in China and in Africa, but this is worse.
A little while ago when I went out again for something to eat (a huge piece of watermelon, in a cafe) I first of all made friends with four men on the footpath near my hotel and got them a simple meal. Two of the four could not walk. One of the others came with me to get food for them.
I also went in to a nearby church and joined a group of people saying "Evening Prayer" before the Blessed Sacrament exposed.
Meanwhile on the other side of South America:
Pope in Chile tells prison inmates never to lose hope or dignity
And tells young people to remember their internet connection password to Jesus!
And back in Paraguay:
Video about my campaign broadcast by ABC Color, Paraguay

The reason I had just watermelon tonight is that at lunchtime I had a nice buffet meal ...in a restaurant where the bill is calculated by weighing your plate! Gives new meaning to the term "a heavy meal"!
---
Tuesday January 16, 2018: Sao Paulo, Brazil....where I arrived early this evening.
This morning I had a 76 year old lady taxi driver from my hotel in BA. She spoke fair English....asked me if I was going to the international airport...I said yes. But after I got out of the taxi and tried to check in, I found I was at the wrong airport. My fault...I remember when I booked on line I saw BA had a second airport and my flight was from there. I should have remembered. Fortunately I was following my Venezuelan principle....go very, very early to airports....then do some computer jobs there. So I had time for second taxi to second airport (50 minutes away!).
At SP airport it took me more than an hour to buy a sim card....very different from places like Bangkok where a card can be obtained in a few minutes. Also tried in vain to use my Hang Seng card at SP airport. Plenty of machines saying they process HSBC (= Hang Seng) cards....but as a kind airport worker explained, HSBC cards no longer work in the machines. Same thing happened in other airports. HSBC should remove its signs!
Since typing the above words I've spent 20 minutes trying to get something to take care of a mosquito community in my room. Man at reception just brought a mosquito-light, but it stopped working when he also came with a fan and put fan into same power socket. I ain't in a 5 star place here! But power is working (power plug here back to US model...unlike Argentina which was like Australia) and I can access internet (using my mobile phone and hotspot).... these are the basics for me....so I can survive.
Arriving in Sao Paulo I feel a bit like Matteo Ricci finally arriving in Beijing.....this is my main target place. I'm due to be here for a week please God. I can't wait to go three days without having to go to an airport!!
Man just returned with second mosquito light...and it works. All good!
Thank you Jesus for letting me arrive in SP. Please bless the coming week. And bless all who made this trip possible.
And please bless and protect Pope Francis in Chile! This has to be one of his best ever talks:
Pope to priests, religious: A Church forgiven of her sins goes out to serve wounded humanity
Which reminds me: I remember what Francis said a couple of years ago when asked on the plane from Uganda was he scared going to the Central African Republic where a civil war was taking place. He replied: "the only thing I'm scared of is the mosquitoes"!

Don't Cry For Me Argentina !
===========
Monday January 15, 2018: Buenos Aires, Argentina ...where I arrived last night after 90 minute flight from Asuncion....before which I had a thought: only once in the past 3 weeks has a flight has been late - the one in Paramaribo, Suriname which was delayed by fog. Airlines in this part of the world have a high standard ...despite the impression given by internet blogs
This morning I walked 12 blocks from my hotel to the headquarters of Clarin - the largest newspaper in Argentina and part of one of the largest media groups in South America. A two hour interview will hopefully do much to stop the flow of drug mules to Hong Kong.
I am now an expert (?) at showing up at media offices without an appointment ....and being welcomed by kind journalists...thank you Jesus!
A leisurely walk back to the hotel, via a large park area, let me see what a well spaced-out city Buenos Aires is ....with plenty of friendly people to help a foreigner find his way around.

Many years ago I remember how passengers clapped when a flight landed after lots of turbulence when landing. But yesterday ...after a totally smooth flight...absolutely no turbulence...the passengers clapped when the flight touched down in Buenos Aires. A man next to me explained this is a normal custom when a flight lands in Argentina! Reminds me of the joke about Pope John Paul II - Q: Why did he kiss the ground on arrival in each country? A: Have you ever flown with Alitalia?
Which reminds me...Pope's visit to Chile and Peru is daily front page news in this part of the world. No one in this part of the world does not know Pope is now in Chile.
Pope shakes up Chile with surprise visit to "bishop of the poor"
After typing the above words I went for a walk - photos from walk in this file which shows a homeless Jesus, Mary and Joseph....and two older sisters of Jesus!
----
Sunday January 14, 2018: Asuncion airport, Paraguay ... where I'm waiting to check-in for flight to Argentina. Seven countries down (Mexico, Colombia, Venezuela, Suriname, Peru, Bolivia, Paraguay) ...two to go...Argentina and Brazil
My faithful taxi driver to the airport told me that although "rain" (of which we had plenty last night in a big storm) in Spanish (..the rain in Spain...sorry...I'm getting distracted) is "lluvia" (pronounced "yuvia"), in Argentina they say "Shuvia". Turns out that much Spanish in Spain is pronounced differently here in South America...and even within South America there are variations.
A faithful friend over the past few weeks has been Google Translate. How did people ever manage in the pre-Google era?!
Report in El Deber, Bolivia's No. 1 newspaper - here

Pope heading to Chile and Peru. Here's what to look for

Chinese police dynamite Christian megachurch

A popular topic in this part of the world ...World Cup football....but it was a sensitive topic in Peru because the three other countries grouped with Peru are France, Denmark and ....Australia!
My Mass this morning was for the kind people who made this trip possible. God bless you all!
---------------------
January 13, 2018: Hello on Saturday night from Asuncion, the capital of Paraguay where I returned this morning from the country's second largest city Ciudad del Este.
This morning I went straight from Asuncion airport to the headquarters of Paraguay's No. 1 newspaper ABC Color where a kind editor did a long interview and then, within a few hours, published a long online report about my anti-drug campaign. Photos and article link here. Surely this publicity will do much to stop drug mules going from Paraguay to Hong Kong.
During the above interview and previous interviews in different countries I have had the good fortune of having a kind Spanish-speaking friend in HK who does not mind being awoken during HK sleeping hours to have an in-depth discussion with journalists in South America...explaining our "No Mas Mulas" campaign. God bless this HK friend!

It's possible I have some relatives here in Paraguay. Someone (I can't remember who...was it Polly Jones?) in my family tree was one of the Australians who joined New Australia in Paraguay more than one hundred years ago!

Chinese bishop released from detention after 7 months
-----
Friday January 12, Ciudad del Este, Paraguay: This morning my 6am flight from Asuncion took only 30 minutes to reach Paraguay's second largest city, Ciudad del Este (which has an OMI bishop!..see below)
Two very special families joined me for a meal at my hotel: in one family, one man (whose daughter is in prison in HK) has been blind for about 40 years after a snake spat poison into his eyes when he was 11 years old)....one of his sons last year lost a leg in a traffic accident....and another son left school four years ago at 10 years old because of lack of funding for study...son now looks after blind father); for the second family today was a sacred day - 24 years ago today the mother (of the man in prison in HK) went home to Heaven:
After the gathering I spent about an hour at the nearby office of the city's largest newspaper, enlisting their aid in spreading the message that too many drug mules from the city are in prison in HK.
Then I paid a happy visit to the diocesan centre which is the home of Bishop William Steckling O.M.I., our former superior general. To my shame I forgot to ask the bishop to make a recording for the inmates in HK.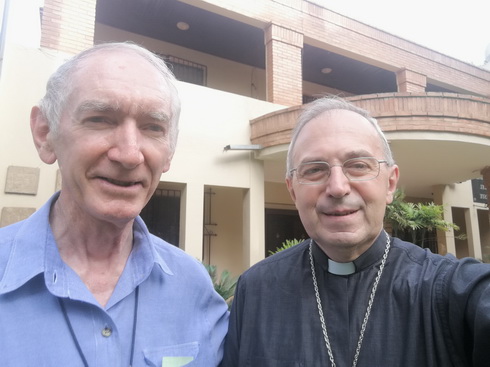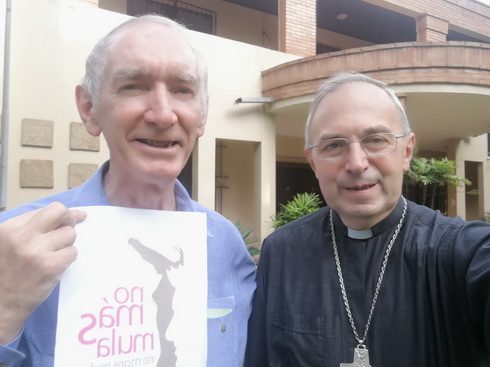 After a lovely meal with the family plus afternoon tea with the bishop, I didn't feel like a full meal this evening....but about 9pm I went down to the hotel dining room and asked (in English) for just a soup and some bread. Waiter immediately went to hotel main reception desk and from a carton under the desk brought me back .....a packet of ....soap!
Thank you Jesus for another memorable day!

Australian grandmother who avoided death penalty released on bail in Malaysia
Daniel Daring - Sunday 2B: God's Calling
-----------------
January 11 Santa Cruz Airport, Bolivia: As I wait for my flight to Asuncion, Paraguay, I have the same feeling leaving Bolivia as I've had leaving Mexico, Colombia, Venezuela, Suriname and Peru: it's been a real privilege to have been here....and after meeting the families of so many inmates in HK I now have many new brothers and sisters....I now belong to many new families ...and they now belong to my wider family...in some ways I'm sorry to say goodbye to them...I look forward to sharing the experience of this trip with their relatives in prison in HK....I have the rare privilege of being a bridge between the inmates and their families....giving hope to both the inmates and their families....God bless the kind friends in HK who have made this trip possible...and God bless the media reports in Bolivia of this trip - may they prevent other families from suffering the tragedy of having a drug mule locked up in a foreign prison.
This morning before leaving for the airport, at a restaurant near my hotel in Santa Cruz, I had a cup of coffee and some (...can't remember the name of the Bolivian delicacy, wrapped in leaves) with the mother of a woman in prison in HK....she brought some photos for me to take to her daughter.
As I checked my records of the woman in prison I discovered something I hadn't shared with the mother and her family at yesterday's gathering: the daughter had been sent by the Sao Paulo drug lords not to HK but to China....with more than 2kg of drugs. It is very sad that the daughter will not be released from prison in HK until 2027....but....in some ways she was fortunate to have been arrested in transit in HK and not arrested in China (..death penalty..). What can be said about the cruel animals (drug lords) who send drug mules to countries with the death penalty?
Many thanks to a kind reader in Australia who has translated the Suriname newspaper report in Dutch about my visit to Suriname. Translation is here

Just now at Immigration I saw something special: the camera which photographs all passengers as you are processed by an immigration officer has something on top of it: a Santa Claus ...and the camera is wrapped in Christmas decorations!
p.s. As I was uploading this file, the power failed here at the airport. But my trusty six year old Toshiba laptop still has four hours of power....and I wasn't using airport wifi...I have my own sim card (in each country) and hotspot Toshiba with my Huawei handheld!
------
January 10 Santa Cruz, Bolivia: Another happy day here...starting at Western Union and finishing in a TV studio!
After Mass and breakfast at my hotel, I went to Western Union to collect some extra help from HK....I had given out so many donations to poor families (especially in Venezuela and Peru) that my funds were at low level...but now I'm ok.
Then a happy lunch time and afternoon gathering with 5 families of prisoners in HK...starting with a drink and sharing at my hotel....then adjourning to an Italian (!) restaurant across the road for lunch
Missing from one family is the mother of a six year old girl, husband of a hard-working man. ....not due to be released from prison in HK until 2027! ...for a charge to which she pleaded guilty although she claims she did not know she was carrying drugs (...a not uncommon phenomenon....mules are sometimes so tricked) ...but had to plead guilty because not enough evidence to plead not-guilty (if she pleaded not-guilty and lost, she would not be released until 2035!). Husband asked me if he could go to HK and get a job there, to be near his wife....but not easy to get a work permit in HK ...and daughter needs him. Best idea is for wife to apply for transfer....which I'll try to help her do. Even though conditions in Bolivian prisons are terrible, it would be better for her family for her to be in Bolivia.

I shouldn't say this, but I'm not sure if I will ever get used to South American women with their generous breasts rubbing against my body during photos! They (the women) don't stand still...they keep moving!
Today's group, like those in Mexico, Colombia, Venezuela, Suriname and Peru now have a secretary who has the contact info of all in the group and has already set up a W/Ap group so they can support each other. Before today, none of the five families knew any of the other families. And the group will support my anti-drug campaign. Each family today received one of my "No More Mules" USB with loads of info in Spanish re the campaign.
After the meal I went to the office of Bolivia's largest newspaper and media group: El Deber.
See my photo report here which includes

this one minute video made at the office
Thank you Jesus for another day of Amazing Grace!
=====
-------
January 9 Santa Cruz, Bolivia:
The sun was rising when I left Santa Cruz airport this morning after flight from Lima, Peru.

One piece of good news - from Suriname. There has been a report in Suriname's No. 1 newspaper about my anti-drug campaign ... in Dutch of course (I'll try to post English translation when available) - here. This online version is a summary of the paper version which is here. I am most grateful to DWT for this report....it will slow down the activities of the Nigerian Gang in Suriname who have been sending drug mules to HK and other places.
More good news: thanks to my O.M.I. colleague Fr Vincent, yesterday was a memorable day in Lima, Peru ....beginning at 9am and finishing at 7.30pm. General photos of the day are here.
In the general photos, the final photos are of the third home ...in the hills. Family wasn't home but telephone contact was made later in the evening...we had left a note with Fr Vincent's number. We didn't have a phone number...inmate in HK could not remember number, just address....so our visit let family know that family member was alive and was in HK. Before our visit family had no news for two months from the time the person was arrested in HK.
Fr Victor is also hoping to engage media friends in doing a story about the anti-drug campaign.
Thank you Jesus ...and Fr Victor...for yesterday!
---
January 8, Lima, Peru: Hello at 11.30pm local time from Lima airport where I'm waiting for a 00.30 flight to Santa Cruz, Bolivia.
Has been a long but happy day. Thanks to the kind help of Fr Victor O.M.I. I was able to go to the homes of 3 families who could not attend yesterday's gathering.
I have many photos and much info from today....but not enough time to post tonight. Will try to do so tomorrow please God. This will have to do for now.
Thank you Jesus for another wonderful day!
--------
January 7, Lima, Peru: Epiphany blessings to all.
My flight from Bogota arrived here in Lima at 1.30am ... and before I got an authorised taxi to my hotel, I was able at the airport to change some money and get a sim card.
Seven families took part in today's gathering at my hotel ...encouraged by three O.M.I. priests who kindly joined the function and mixed with the families. This was really beautiful and something I will never forget.
Some of the families travelled very long distances...even overnight...to attend.
As in other countries, so too the Peru group now has a secretary to help them support each other and to help spread the campaign message.

Coca cola is red and white because....cocaine (which used to be used in a mild form for medicinal purposes in South America) originated in the Andes Mountains in Peru....and Peru's flag is ....red and white!


Australian woman arrested with heroin in Vietnam
----
January 6 (Part B) at Bogota airport, Colombia: (part A, below)
Hello from Bogota departure area where I'm waiting for flight to Lima, Peru. Over the past week I've been through so many security checks...minus shoes and belt...I'm better able to understand how inmates feel experiencing security checks so often!
South America is like Asia ...many different worlds as you go from one country to another...but each country with its own richness and gifts.
I took some interesting photos today....Here
Thank you Jesus for safe travelling. Please bless all planes and passsengers! And please bless the kind people who made this trip possible for me.

Can you hear a dog barking? People in this part of the world ...and in North America...take pets onto planes!
January 6 (Part A) at Caracas airport, Venezuela: Because of security checks, flights from this airport are closed two hours or more before departure time. And traffic on the only road from the city to the airport can be delayed by accidents or security checks. So....I left my hotel at 9am for the 35 minute (if no delays) trip to the airport ....for a flight due to leave at 3pm! It's now 10.30am and the check-in counter has not yet opened. To be on the safe side, I've already checked in on line...which in this part of the world can only be done 24 hours before flight.
I just now checked W/Ap and watched this 3-minue video song posted by a HK friend ....has given me energy! Gratias!
Was also given energy by a kind young local Venezuelan man who helped me pay for a cup of coffee and a roll just now at nearby canteen. I had only B100,000 in local currency ...and coffee and roll needed 105,000. I didn't ask him for help. He was standing next to me and saw/heard my predicament. The "milk of human kindness" is most nourishing. As I've been doing everywhere, I gave him my name card and a copy of the Spanish edition of Good News for the Poor (scroll down for Spanish).
Check in just opened. Dozens ahead of me. Let's see what happens. God bless
-----------------
January 5 - Caracas, Venezuela: Three families who couldn't come to the Dec 31 gathering, joined seven families who had attended Dec 31, for a lovely gathering today....assisted in translation by my dear professor friend....who kindly arranged for a team from Univision TV whose report will greatly spread the campaign message: don't get into drug trafficking.
Unlike Dec 31, no problem this time with paying for the meal in local currency....I made sure to get plenty at the airport on arrival this morning. And "plenty" meant "plenty" - see my photo report which refers to the McDonald's currency test (...after the gathering I went for a walk to the nearby open area which has a McDonald's....hundreds of people enjoying the area...I felt quite safe...and I had with me only a photocopy of my passport and not a cent of any currency...nor my mobile phone)
Thank you Jesus for Venezuela and Suriname.
Tomorrow Please God I head to Lima, Peru...via Bogota for a transit stop. Thank you for a prayer each day.
-------------
January 4 - Port of Spain, Trinidad & Tobago: Fog at Paramaribo airport this morning caused my flight to Port of Spain to be delayed by almost 3 hours....leaving around 8.30am instead of 5.40am.....as a result of which 45 passengers missed our connecting flights! ....7 of us bound for Caracas in Venezuela. Today has been spent at Port of Spain airport. Airline patiently re-scheduled our flights....and the Caracas G7 will soon be boarding a flight for ....Panama!....after which at midnight we are due to take a flight to Caracas for arrival at 3.20am.
The adventure continues! Thank you Jesus for blessing all planes and crew and passengers!
Some new photos have been added at these files: 01 02 03
---------------
January 3 - Paramaribo, Suriname:
Photos from today are here (including photos of my guesthouse)
In the late afternoon I met with a young man whose sister is in prison in HK
And then I had a ten-minute dip in the pool of the guest house!
-------

Talk given in Germany by HK barrister Robert Tibbo with his HK client Edward Snowden - re the asylum seekers in HK who helped ES: 01 02 03
-----------------
January 2 - Paramaribo, capital of Suriname: Today at a Burger King store near my guesthouse
I had a meeting with the families of three inmates in prison in HK....and then went to the home of one of the three to meet his dear parents:
At the start of the day I paid a visit to the Catholic cathedral just near my guesthouse. At the end of the day I though it would be good to say hello to the priests at the cathedral. When I went to their residence I hit a double jackpot: the kind Vicar General who met me invited me to take part in a radio program tomorrow afternoon ....and as he saw from my card I was an Oblate, he called out to another priest who was just about to leave on his motor-bike ....a Dutch Oblate! So...tomorrow I'm due to join both priests and a few other Oblates for lunch (my treat). Thank you Jesus for another special day!
---------------
I wish all dear readers a Happy New Year!



!
January 1, At Port of Spain Airport, Trinidad & Tobgo, in transit on way from Caracas to Paramaribo (Suriname). Happy New Year, everyone!
Never in my wildest dreams did I think I'd be in the home of the famous West Indies cricket team! Arriving here from Venezuela is a bit like arriving back in peaceful, orderly, safe HK after a stint on Mainland China ....a sense of relief.
After yesterday's really happy gathering at my hotel in Caracas for the families of 7 inmates in HK, a small (?) nightmare adventure unfolded: the meal cost almost 3,000,000 Venezuelan Bolivars. Everyone here is a millionaire...the result of hyper-inflation...which continues to skyrocket each week. But I did not have so much local currency...local currency is a rarity...no-one has access to much of it. And no one uses the banks because they give the official rate: US$100.00 = B$1,000. Whereas on the street - the Black Market - US$100.00 = B$3,500,000 (or higher)!!! Only a fool uses the bank.
This is why my drama began. On arrival in Caracas, I changed only US$50, thinking I could use my Visa card or US$ for family gathering meals ...as in Colombia, as in Mexico. My US$50 at the airport (from a porter) got me B2,000,000....so I was B1,000,000 short to pay for the meal. The hotel said I could pay that B1,000,000 in US$ or use my Visa card, but guess what rate they would charge? Only the official rate! Which meant I would have to pay US$10,000 ...for a meal for 22 people!!!
The stupidity of the situation was not a factor with the hotel officials...they were following the rules. No amount of reasoning would move them. And I needed to pay that bill before I could check out this morning.
For many hours last night - New Year's Eve - my kind professor friend (see yesterday's blog) asked many friends to change money for me ....but no one had any cash. No one could even access so much cash from their bank (a ridiculously low limit is imposed ....to try to stop money leaving the country).
At 3.15 this morning the professor texted me - after numerous phone calls between himself, his friends and the hotel during the night: sorry, can't get any cash...you'll just have to pay in US dollars ...after he persuaded the hotel to give me a rate of US100 = B4,000 and maybe the hotel staff would do something on the black market to help refund some of my money. But that still meant I'd be paying a fortune.
The professor had warned me to get to the airport 5(!) hours early for my 9.45am flight to Port of Spain....because of security checks...and to check in online. I thought he was exaggerating. He kindly ordered a safe taxi for me for 5.30am. But as part of Plan B, before I said Mass at 4.45am in my room, I checked-in on line (....with much difficulty....talk about obstacles...the airline website kept saying my surname was incorrect!...I tried and tried....tried using my ticket confirmation number, my e-ticket number, tried using all possible combinations of John David Wotherspoon....still got the same crazy message: "your surname is incorrect" ...then I discovered....the bleeding airline (surely not my mistake???...not impossible) had added a "q" so that my surname was "Wotherspoonq"!!! Please don't say it out loud! Thus renaming myself, after quite a battle I was finally able to check in on line. Proved to have been a most important battle to have fought!).
Nearly forgot, during the night, the hotel wifi kept failing ....and kept causing my faithful Toshiba to crash every 10 minutes...just a minor detail in the school of learning more patience and perseverance.
Now back to the main story. I knew that the only possible place to change money before dawn on New Year's Day (!) was the airport ...a trip of 35 minutes from the hotel. So, when the driver arrived on time at 5.30 I used my Google translate to give the hotel clerk (who was like a prison guard making sure I did not escape without paying for the meal!) a disingenuous (not sure of spelling, just tried to check with Google, but airport wifi has gone!) message in Spanish that was not untruthful: "I go to church. I leave my luggage here. I will come back at 7am. I will pay you at 7am". He was confused but agreed, gave me a luggage ticket, and I took only my passport and wallet for a first trip to the airport! Where at International, no money changing porter had any money at that time of the morning. My prayers kept continuing...and my kind driver had an inspiration: try the domestic terminal....where after quite a search and a long wait, a porter...very discreetly out of view of the military who are everywhere...gave me B3,500,000 (!) for US$100! Deo Gratias, Alleluia, Alleluia....
But the drama was not yet over. Back to the hotel we headed, my faithful driver's chariot making all sorts of unhealthy noises....almost no 21st century cars on the road in Caracas...most are from the 20th century...and broken down cars litter the side of the road. Please Lord, bless our engine!! Which He did...and we got back to the hotel, where a most bemused clerk was not a little bewildered to see me produce B1,000,000 ....I even gave him a tip for being so patient during the night....then with my luggage in the taxi (except for my heavy jacket - not needed in Suriname - and some items from the prisoners' families which I left in stored luggage at the hotel...for free!) I headed back to the airport...trying to think about today's Mass readings, practising Spanish with the driver, praying for his engine...I mean his car's engine...and refusing to look at the time on my phone in case I put the driver under too much pressure.
I paid him generousley, booked him for arrival Please God when I'm due back in Caracas on January 4, then started searching for the Caribbean airlines desk. A friendly young guy in uniform I'd asked for help to change money on my earlier visit to International turned out to be the check in man for Caribbean...and he gave me the alarming news: the flight is closed...you should have checked in two hours ago!!! But then, smiling, he produced my check-in tickets...the missing passenger who had checked in on line!! If no on-line check in, no me on plane! He also said I could take my travel trolley as well as my back pack as carry on luggage (only 9 passengers on the 70-seater turbo jet).
Then in the departure lounge, at the only canteen open at that hour (now about 8am) he helped me order a little breakfast and he and two colleagues invited me to sit at their table ....during which time they were fascinated/alarmed to learn that so many people from Venezuela are in prison in HK for drug trafficking ...and they said they will spread the news about our anti-drug FB No More Mules....and one of them, a lady, said she is good friends with a radio host and will make an appointment for me on the afternoon of Jan 4!
What an experience. To think that some people spend their lives watching other people's adventures on TV....when you could be having your own adventure in Venezventura!!
As each new above frustration appeared, I tried to say "Lord, I offer this up as a prayer for Venezuela and as a prayer to stop people from Venezuela being drug mules"
Thank you Jesus for your incredible protection on this trip. But please, if any more experiences like that of the past 24 hours, please strengthen my old heart to keep up with the pace of life! Nothing wrong with my heart, thank Goodness, but it sure beat a bit faster from 3pm yesterday to 8am this mrning!
I'm now looking forward to a bit of a rest in Suriname (...famous last words?..). Only a few families to meet and have to stay 3 nights because flights only a few times a week. Maybe even time for a swim. I also hope to do some "fishing" and some campaign publicity work.
Looking forward to using my beautiful Suriname visa....and re-using my Yellow Fever certificate (from Africa in 2015).
Thank you for a prayer!

Australian grandmother on drug charge escapes death penalty in Malaysia
Daniel Daring: The Mother of God
--------
Dec 31 Caracas, Venezuela: Yesterday at my hotel there was a happy gathering for the families of 7 inmates in prison in HK - all 7 having gone to HK via Sao Paulo where they were given their drugs by the African Drug Mules operating in Sao Paulo (whose agents in Venezuela had recruited the 7 mainly on the pretext of local jobs - genuine ordinary jobs - in Sao Paulo).
Tomorrow I'm due to go to Paramaribo, the capital of Suriname.
Thank you for a prayer!

A few times over the years I've been asleep during take off, but on yesterday's flight from Bogota to Caracas... I was asleep not only for take off but also for landing! I missed both!
---------------
Dec 30 Caracas, Venezuela: I arrived here around 1pm after 90 minute flight from Bogota....on maybe the only flight to use the airport today....no problem at immigration or customs....very few passengers....no bank or money changing office at airport....exchange rates on street many times better...hyper-inflation. Airport porters...no work to do....exchange money
I was again blessed: unable to find a legitimate money changing place at the airport, I joined a queue which had a desk where money was being exchanged...only to find it was the office for paying your parking fee! But....a very kind elderly man ...a retired professor...Jesuit trained!...gave me a crash course in survival in Venezuela ....and even drove me to my hotel...where he most kindly also helped me phone families whom I'm due to meet tomorrow.
I was feeling a bit sorry for myself since I'd had only a muffin and cup of tea for breakfast at Bogota airport, then only another cup of tea and roll on flight for lunch....so I was looking forward to something to eat at hotel...with my professor ...who had only a cup of tea while I had a lovely meal consisting of chicken, mashed potatoes and salad. But it didn't seem right for me to have so much ...after having seen lines of people on the street queuing up to buy ...a loaf of bread. French revolution scene? US Great Depression scene?
Hotel has agreed to let me have lunch with families tomorrow...but has set a maximum of 20 people ..."because we don't have much food".
And money here is useless, worthless....and increasingly so each week.
How much longer Venezuela can survive is the question. Chaos is on the menu when people are starving and penniless.
Now I can better understand why this poor place is easy prey for the Nigerian Drug Lords looking for drug mules....the people here are desperate. No wonder there are so many Venezuelan inmates in prison in HK.
O Holy Spirit who brought order out of chaos at the beginning of creation, please help the people of Venezuela get their country back on the road again!
------
I wish all dear readers a Happy Epiphany tomorrow.

Epiphany

seen in Mexico City a few days ago (3 Kings in place of Santa who stopped work on Dec 25?)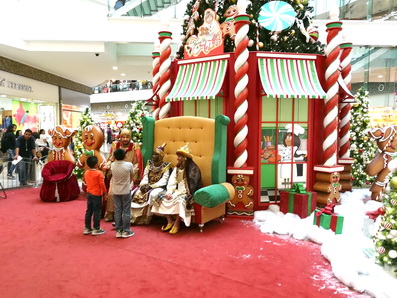 ----
Dec 29 Bogota, Colombia: From 12 noon today until about 4pm I met with six family groups...representing six Colombian inmates in prison in HK. A very fruitful day which included a long table lunch and much sharing. Families from now on will keep in contact by W/Ap to support each other and to spread the campaign message: Don't take drugs to HK....and their W/Ap co-ordinator will be in contact with No More Mules editor in HK who is forming a network of South American W/Ap F/B editors. Hopefully No More Mules activity will slow down the flow of mules from South America to HK

On the flight from Mexico City to Bogota yesterday there was a lovely breakfast/brunch not long after take off....and then...surprisingly ...a few minutes before landing....a drink and a packet of peanuts...the drink causing some passengers to make a visit to toilet after plane had begun its descent (or was it the peanuts?)

Snowden's Twitter about HK asylum seekers
-------
Dec 28 Bogota, Colombia: Two young OMIs kindly met me at airport this afternoon and one of them drove me to my hotel where I'm due to meet a number of families tomorrow. Turns out that Mexico, like USA, has no immigration procedure when you leave the country....just airline details. No offence to airline staff, but a dedicated and professional immigration staff would be more difficult (impossible?) to influence if you needed to leave a country illegally.
I arrived at Mexico City International Airport at 5.30am this morning....as did tens of thousands of other passengers....and I almost succeeded in using the self-check-in machine....but needed help a couple of times. Flight passed over a number of Central American countries....spectacular. Spectacular because flight was in an old plane which didn't/couldn't fly very high.

One passenger next to me today on flight from Mexico City - a clothes company manager - was the first person I've met who spotted the mule on my name card ...without having it pointed it out to him (card).


After Mass at the new Guadalupe basilica yesterday, I visited the old basilica ...which when you enter requires you to walk "uphill", because its front is sinking! For some great photos Google: "basilica de guadalupe sinking". In fact the whole city is sinking!
-------------
Dec 27 Mexico City: A long but happy day today: meeting with a family which has one branch in HK (not in detention), then concelebration at 10 am Mass at the Basilica of Guadalupe (...a most memorable privilege...), then a tour of the Basilica property, then an enjoyable 3 hour meeting with the families of 2 Mexican inmates in prison in HK, then late yesterday afternoon a hunt for a "universal" adapter....so I can use my computer which has a HK plug. Found one...but it took a couple of hours. I brought several adapters from HK but they cannot be used in this part of the world. Due to go to Colombia tomorrow. Thank you for a prayer.

No arrangements had been made for me to meet any media people yesterday ...so Jesus took care of things: one of the relatives is a newspaper reporter and he will do a story to publicise the anti-drug campaign!
------------
Dec 26 Mexico City where I arrived bout 7pm local time from the US, without immigration check. When you leave HK or any other country, you go through immigration. But not when you leave the US - no immigration check! Just airline check.
Tomorrow I'm due to meet some special people here in Mexico City. Thank you for a prayer

Tonight I got a registered Yellow Cab (paid at airport YC office) to go to hotel. Driver could speak only a little English and I could manage only a few phrases of Spanish....but we managed to communicate. When a car cut across our path my driver taught me how to say "Malo, stupidio conductore" to describe the other other driver. My driver also said he has 4 grown up children: two sons and two doctors
Dec 26 US time: Update from Los Angeles airport where I arrived a couple of hours ago from HK. Have been able to get earlier flight to Mexico City ...leaving shortly. Great movie on flight from HK: Hacksaw Ridge, directed by Mel Gibson...a true story about Desmond Boss, a Christian conscientious objector who served as a medic during the US attack on Okinawa during WWII ...saving 75 men without firing a shot. Inspiring movie!
Tues/Wed Dec 26-27

As part of my anti-drug campaign, I'm due to travel from HK to Los Angeles today ...with a connecting flight to Mexico ....so I may not have a chance to update this website for a couple of days. If I can, I will. From Dec 28 HK time I hope to post updates of this website each day as usual. I'm due to return to HK on Jan 26, after publicity work and meetings in 9 countries with families of 55 South American inmates in prison in HK. Thank you for a prayer each day!
---------------------------------
Please also join me in praying for the very many deformed and handicapped people from China who are on the streets of HK as beggars...as well

as deformed people in China itself ...like Hung Chun Cai

My Africa trips:
2015: Tanzania, Malawi
2016: Kenya, Uganda

2017: Southern Africa, Dubai (

The Last Run)
--------------------

Australian Chinese for Families Association
Gay marriage: an elephant in the room (by John W)
Video: What "gay marriage" did to Massachusetts
同志婚姻自2004年立法後,美國麻省的改變 ( 廣東話附字幕版)


Frightening YouTube reports: LGBT radical impact on educational institutions (No. 5); LGBT infiltrating churches (No. 6); US corporations massively supporting LGBT agenda (No. 7). What has happened in the US is now starting to happen in other places. Some day our children will ask "why didn't you do more to stop this evil?"
--------------------------------------------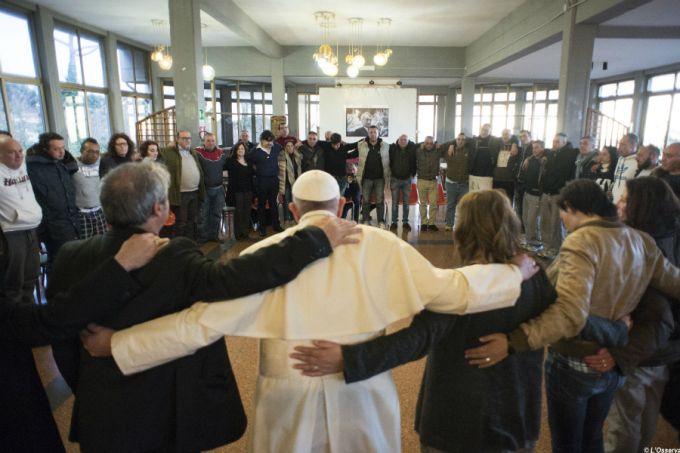 Pope's surprise visit to drug treatment centre
Pope is practising what he preaches: "get out and mix with the poor"
HK readers might like to join me in praying each day for one group of HK prison inmates: Sun: Lo Wu; Mon: C.I.C., Siu Lam, Tai Lam; Tue: Stanley Wed: Hei Ling Chau Thu: Lantau
Fri: Lai Chi Kok Sat: Hospitals, Pik Uk & other centres
---
On revolving map:

Left click bottom right silver button

Left click country

Left click state/province

....till you find your city/town !

Left click this table of flags for details of hits on this main page


Table shows location of readers:
HK 24%; Australia 22%; UK 14%; US 13%; Canada 6% ; Tanzania 5%

---
This website was launched in construction mode in Hong Kong on November 20, 2011 - the Feast of Christ the King. The official launching was held on the Gold Coast, Australia, on January 20, 2012. Map and Flag Counter began Feb 11, 2012. Previous visits 4,932. Note: counter on this page + Map & Flag Counter record visits only to this main/index page. Visits to other pages and to Facebook page are not recorded. This site's 2017 statistics. Thank you for checking this website each day. God bless all readers and bloggers!


Fr John Wotherspoon O.M.I. 胡 頌 恆 神 父
jdwomi@gmail.com HK mobile +852- 67095674
China mobile +86-13828421861 - (only when in China)
PO Box 74013 Kowloon Central Post Office, Hong Kong
+++++++++++++++++++++++++++++++++++++++++++++++++++++++++